Saturday Painting Palooza Vol.372
Hello again painting fans.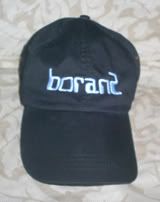 This week I will be continuing with the three turreted Victorian house in Cape May, New Jersey. I will be using my usual acrylic paints on a conventional 8x8 inch canvas. The photo that I'm using is seen directly below.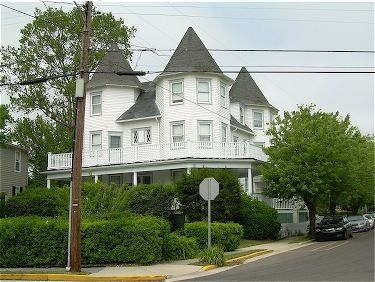 When last seen, the painting appeared as it does in the photo directly below.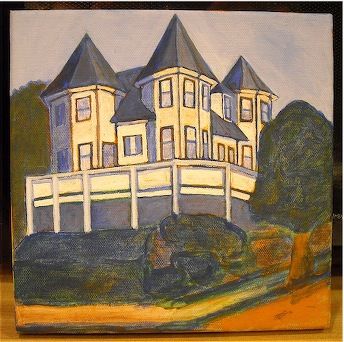 Since that time I have continued to work on the painting.
Once again, there are lots of changes for this week's cycle. To the house itself, I've added details to the porch railing. This makes for a finished appearance. I've also added the lower portion seen under the curbside tree. I've finished the street and sidewalk. Note that these are done in warm colors, especially the sidewalk. Curbside grass now sprouts from the sidewalk. The many bushes out front have been defined. And all of the greenery seen in the painting now have highlights to the left and shadows toward the right. With these changes, the painting is finished.
This painting has been especially instructive for me. It was mostly free of stress and proceeded in what seemed like a natural manner. After applying underpainting of various shades, I added what would become the upper layer of paint. I did not obliterate the underlying layers and these show through in the photo. The upper layers received some refinement but I did not fuss with things as in the past. In fact, other than the group of bushes out front (which required some extra effort and paint) this was a pleasure to paint. The result is a pleasing and nicely unified piece. I've already started a new painting which uses the same technique. The current and final state of the painting is seen in the photo directly below.
I'll have a new painting to show you next week. See you then.
Earlier paintings in this series can be seen here.
Labels: Cape May, victorian house