Saturday Painting Palooza Vol.395
Hello again painting fans.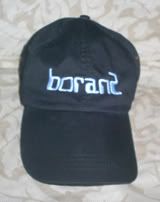 This week I will be continuing with painting the painting of the 1949 Packard. I'm using my usual acrylic paints on a large 20x20 inch gallery-wrapped canvas. The photo that I am using is seen directly below.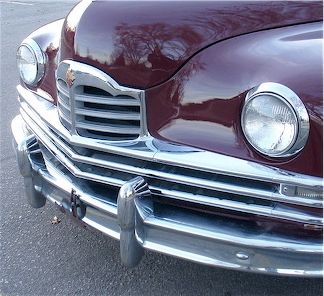 When last seen, the painting appeared as it does in the photo directly below.
Since that time, I have continued to work on the painting.
I've finally begun to paint all that chrome. For this week's cycle I've concentrated on the central grille and upper surface of the highest of the 3-level section. I have attempted to follow the photo closely. Even so, I feel that the 3-level section needs further revision. It does not seem to follow the photo closely enough in the details below the central grille and under the righthand headlight. As to the central grille, note that the shadowed areas inside have been painted as well as the highlights on the outer section. The horizontal sections also have thin highlighted sections. I'm happy with it for the most part. Finally, note the signal light to the far right, inside the grille. I'll have much more next week.
The current state of the painting is seen in the photo directly below.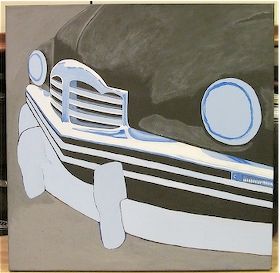 I'll have more progress to show you next week. See you then.
Earlier paintings in this series can be seen here.
Labels: Packard