Saturday Painting Palooza Vol.430
Hello again painting fans.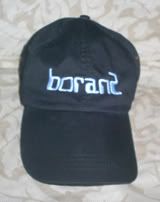 This week I will be continuing with the painting of the Grand Canyon. The photo that I will be using is seen directly below. I will be using my usual acrylics on a 12x12 gallery-wrapped canvas.
When last seen, the painting appeared as it does in the photo seen directly below.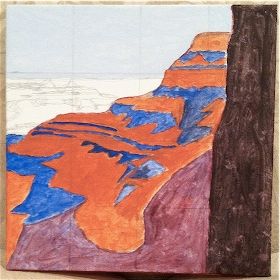 Since that time, I have continued to work on the painting.
I have continued to work on the central butte. It now appears in a pinkish color with dark shadows. I will be adding further thin watery layers of paint to gradually change the color. This technique has worked well in other applications. In doing this, the pink will remain a part of the final result. But you'll see that as we go along. Further additions include paint added to the closest butte to the extreme right and blue in the far distance. Remaining unloved with no paint at all is the butte in the middle distance. That should change for next time.
The current state of the painting is seen directly below.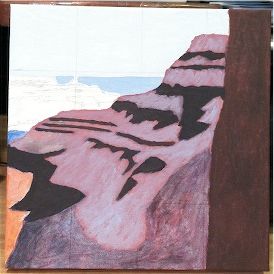 I'll have more progress to show you next week. See you then.
Earlier paintings in this series can be seen here.
Labels: Arizona