Hello again painting fans.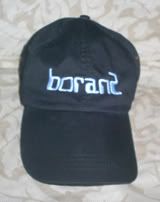 This week I will be starting an entirely new painting but first a final update of the painting of Bell Rock in Sedona, Arizona. When last seen, that painting appeared as it does in the photo directly below.
It was suggested by DavidW that the shadows could use some revision. I then realized that the shadows of bell rock itself were inconsistent with the shadows of the plants on the path. Both the path and Bell Rock are composed of the same material and it seemed that shadows should appear the same. I revised Bell Rock to have the same color shadows of the path. The result, seen below, is not only a more consistent painting but one with greater impact. Thanks to DavidW.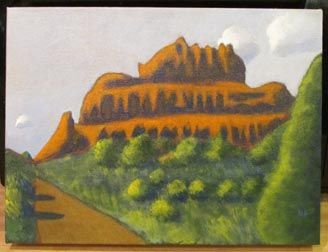 Now on to the new painting. Long time readers will remember my fetish with old Hudsons. Specifically, those of vintage years 1948 through 1954, the so-called stepdown models. I've been saving the old photo seen directly below for some time. It was found on ebay. It is an appealing vintage image of a stylish woman standing in front of what is most likely a 1949-1950 model Hudson. I will now attempt to paint this image making up the colors as I go along. Good entertainment for a partly color blind individual.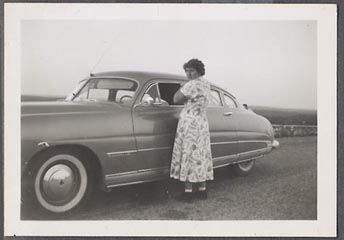 I began with a pencil sketch on a gallery wrapped 8X10 canvas. It turned out fairly well. Note that it was painted on a canvas used previously but abandoned mid way. It will serve well here.
The current state of the painting is seen in the photo directly below.
I'll have more progress to show you next week. See you then.
Earlier paintings in this series can be seen here.