Saturday Painting Palooza Volume 287
Hello again painting fans.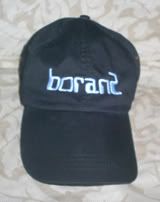 This week I'll be continuing with the painting of the Cold Spring, New York structure. I'll be using my usual acrylic paints on an 8x8 inch gallery-wrapped (thick) canvas.

I'm using the photo seen directly below.

When last seen, the painting appeared as it does in the photo directly below.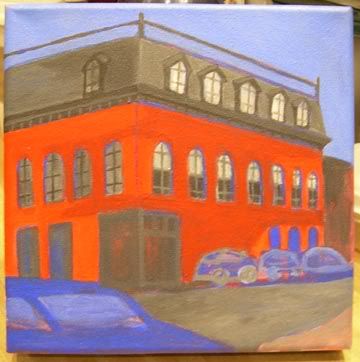 Since that time I have continued to work on the painting.

I've had some time to spend with this piece, and it needed it. Note that the photo below is rather poor. I just couldn't get a good one much as I tried. The colors of the blue up front and the building (at least the left side) are not true. That car is waaaay too bright. There is actually a series of shadows above the 2nd story windows (left side) that do not appear in the actual painting when viewed directly.

I've now reworked all the windows and darkened the left side of the building. In this instance, the scene in the painting is lit from the right. I've also fixed most of the perspecive problems. At the top of the building, the decorative ironwork is now seen. In the street the cars to the rear are now complete. The cars in the foreground still need highlights and reflections. Note the interior of the blue car. Finally, the curb of the unseen block to the right makes its first appearance.

The current state of the painting is seen in the photo directly below.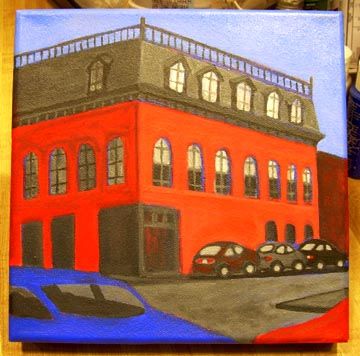 That's about it for now. Next week I'll have more progress to show you. See you then. As always, feel free to add photos of your own work in the comments section below.

Earlier paintings in this series can be seen here.
Labels: Cold Spring