Saturday Painting Palooza Vol.233-Plastic Surgery Edition
Hello again painting fans.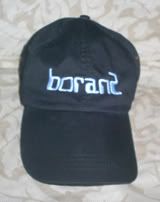 This week I'll be continuing with the painting of the towered Cape May house. I will be using the photo seen directly below.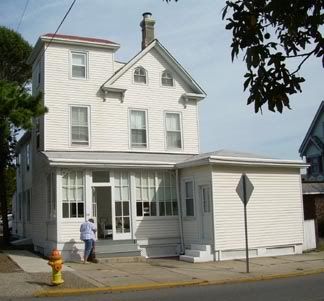 I'll be using my usual acrylics on a small 5 by 5 inch canvas.

When last seen, the painting appeared as it does in the photo directly below.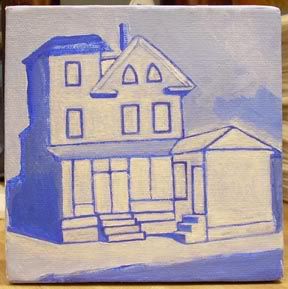 Since that time I have continued to work on the painting.

When last we were together I had noted that the perspective of the house was somewhat lacking. In fact, a review of the photo above will show that it was seriously drooping off to the left side. It was in serious need of...a facelift. And that is exactly what I have done.

Seen directly below are before and after photos of the painting. Note that the before is the same as the photo above. The after is the painting subsequent to time spent correcting the droop. All of this was necessary because I had lost sight of the big picture in favor of the details. Well, maybe not so big at 5 by 5 inches.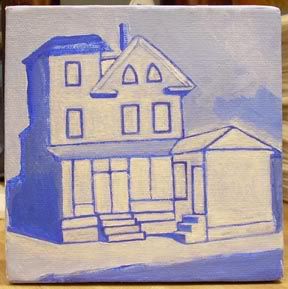 And for those focused purely on forward-looking progress rather retroactive repairs, and you know who you are, I have provided some further refinement directly below.

The current state of the painting is seen directly below.

That's about it for now. Next week I'll have more progress to show you. See you then. As always, feel free to add photos of your own work in the comments section below.

Earlier paintings in this series can be seen here.
Labels: Cape May