Saturday Painting Palooza Volume 304
Hello again painting fans.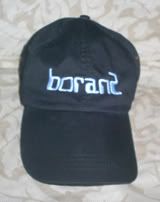 This week I'll be continuing with the painting of the Ferrari F430. I will be using the photo seen directly below.

I'm using my usual acrylic paints on a 5x7 canvas.


When last seen, the painting appeared as it does in the photo directly below.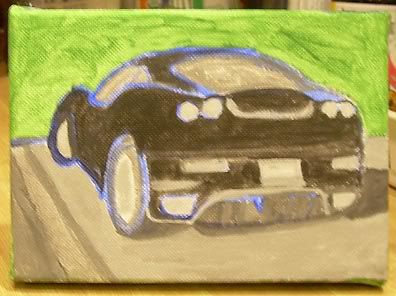 Since that time, I have continued to work on the painting.


For this week I've continued (exclusively) to refine the Ferrari. A darker layer of black now covers most of the car. I've reshaped the lights and exhaust ports. The window glass now appears in blue. Below the car, the shadow now appears darker, probably a bit too dark. I'll resolve that before we're done. The car is almost ready to receive its highlights.


The current state of the painting is seen in the photo directly below.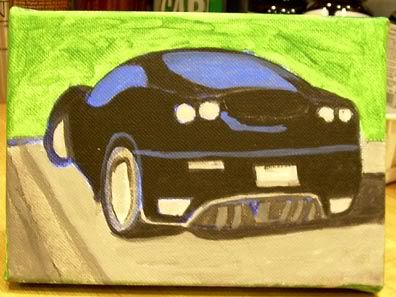 That's about it for now. Next week I'll have more progress to show you. See you then. As always, feel free to add photos of your own work in the comments section below.


Earlier paintings in this series can be seen here.

Labels: ferrari