Saturday Painting Palooza Vol.191
Hello again painting fans.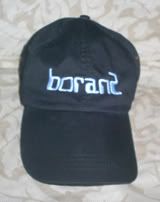 This week we'll be continuing with the painting of the 1952 Hudson. The photo that I'm using is seen directly below.


I'll be using my usual acrylics on a 9x12.

Seen in a period advertisement directly below is a similar Hudson.

When last seen, the painting appeared as it does in the photo directly below.

Since that time I have continued to work on the painting.

I've continued working on the background. After considering that broken shadow, I've straightened it and eliminated that leaning board. While it did add some interest, it was really more of a distraction than a positive element. Out it went.

I then moved on to shed/building. I had actually thought about eliminating this as well. After further consideration, I realized that it explains the linear reflections on the car's windows. Those reflections are cast by a similar unseen structure to the right of the car. Perhaps some future viewer of this painting will make that connection as well. Well, I'd like to think so. I did revise the building but it remains in the same spot.

Finally, I've added some shadowing to the ground and repainted the fence. A hint of a cloud now occupies the sky.

The current and final state of the painting is seen in the photo directly below.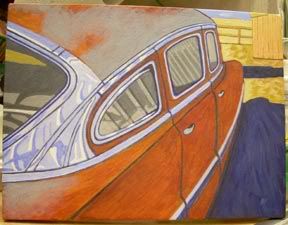 That's about it for now. Next week I'll have a new piece to show you. See you then. As always, feel free to add photos of your own work in the comments section below.

Earlier paintings in this series can be seen here.
Labels: art. painting, Hudson Hornet