Saturday Painting Palooza Vol. 145
Welcome back.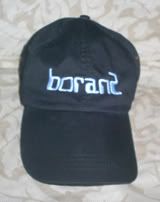 This week we will be continuing with the painting of the Victorian house in Las Vegas, New Mexico, seen in the photo directly below. As usual, I'll be using acrylics. This one is large for me, the canvas is 11x14.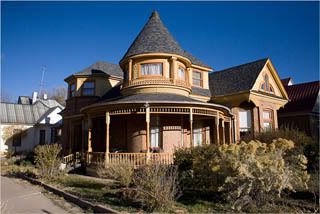 When last seen, the painting appeared as it does in the photo seen directly below.

Since that time I have continued to work on the painting.

I've finished the front porch along with the half-shadowed railing going down to the left side street level. Note that the left side porch railing is now in shadow. To right of the street level railing, the bushes now cast a shadow across the pavement.

The building to the right rear has had its roof repainted. The building to left rear now has a shadow across it cast by the main structure. This is one of my favorite parts of this painting. And with that I am finally done.

The current state of the painting is seen in the photo directly below.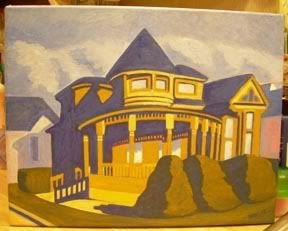 That's about it for now. I'll see you next week with something new. As always, feel free to add photos of your own work in the comments section below.