Putting The Bang Back Into The National Parks
There you are, sitting amongst striking scenery, perhaps enjoying this view.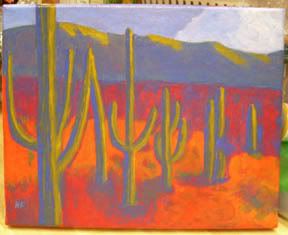 The birds are making sweet sounds as a soft breeze gently stirs the native shrubs. There's nothing to do but soak up the beautiful views. Things are almost perfect. Almost perfect because there is apparently one other thing that would make your national park experience incomparable.
PEER link
Washington, DC — A campaign by the National Rifle Association to repeal National Park Service rules relating to firearms is based upon misconceptions, according to an analysis released today by Public Employees for Environmental Responsibility (PEER). If the NRA is successful, it would mark the first time Congress would have enacted a statute to repeal a regulation governing the national park system – in this case, rules that date back to the origin of national parks.

Senator Tom Coburn (R-OK) has prepared legislation forbidding the Interior Secretary from enforcing "any regulation that prohibits an individual from possessing a firearm in any unit of the National Park System or the National Wildlife Refuge System…" On December 14, 2007, a group of 47 senators wrote to Interior Secretary Kempthorne urging repeal of these regulations because they are "confusing, burdensome and unnecessary". The NRA claims credit for both the letter and the Coburn amendment. A Senate vote on the Coburn amendment may occur as early as this week.
The legislation is aimed at controlling the hotbeds of crime that are our national parks, no doubt. You just can't be too careful.
Senator Coburn is apparently attempting to reinforce the misconception that the current regulation is in conflict with the second amendment. In fact, the current regulation was put in place during the Reagan administration and relaxed an earlier stricter one. It does not absolutely bar weapons.
"…unloaded weapons may be possessed within a temporary lodging or mechanical mode of conveyance when such implements are rendered temporarily inoperable or are packed, cased or stored in a manner that will prevent their ready use."
PEER again:
The Second Amendment right 'to keep and bear Arms' does not specify that the weapons must always be loaded and holstered," stated PEER Board Member Frank Buono, the former deputy superintendent of Mojave National Preserve, noting the fundamental reason for this regulation is to prevent opportunistic poaching, as most park units forbid hunting. "It is amazing that for more than seven decades the vigilant guardians of the Second Amendment never before discovered this hidden violation of the Constitution by the National Park Service."
And then there's the issue of consistency of regulations. Senator Coburn would have regulations conform to state law, potentially giving rise to many different regulations.
The other rationale for removing firearm regulations is "consistency in firearms policy" on federal lands, according to the senators' letter. Senator Coburn's legislation would have federal firearm policy conform to state laws, but because firearms laws vary from state to state, there would then be at least 50 sets of rules for federal lands. In some instances, where a park straddles a state line, there would be two different firearms policies in different sections of the same park.
Apparently one will need GPS to know for sure.