Saturday Painting Palooza Vol.128
Welcome back.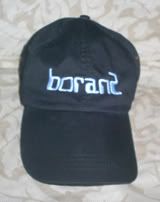 This week we will be continuing the 10 x 10 scene of the creek and buttes in Sedona,
Arizona. I will be using the photo seen directly below and using my usual acrylics.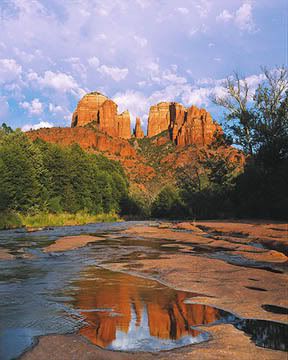 When last seen, the painting appeared as it does in the photo directly below.




Since that time, I have continued to work on the painting.

I've further refined the buttes above, adding the shadows and highlighted areas. Note that the shadows are painted in a darker shade of the body color. I'm not quite happy with them yet but I'll leave them for now.

Also receiving further attention is the water surface. I've changed the shape of the rocks and reflections a bit to better reflect the appearance of the photo. I've also added some white highlights to the blue.

The two photos below show two phases of the piece. Note that the final photo has water ripples represented by scalloped areas in the brown reflections. The actual rocks are painted in a lighter orangey shade, the reflected rocks are more brown.

Oh, I almost forgot, the sky now appears with two clouds, one far in the distance.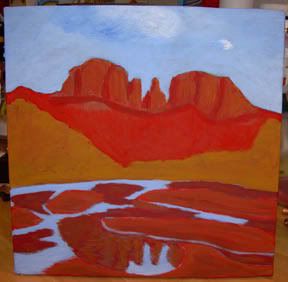 That's about it for now, I'll see you next week. As always, feel free to add photos of your own work in the comments section below.